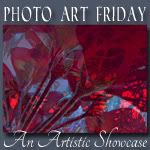 This was my first approach to the "Sky" prompt ... it is a composite of several different levels of sky and the multitude of attitudes sky can express
.
What I love so much about the sky is that, no matter how many times you look at it, it will never be the same twice. It can express so many moods, so many extremes. It seems so inclusive and exclusive ... I could have created a hundred versions and each would have a different meaning to each of you ...
The Morning sun over a field of corn ...
A progression of night skies ...
Maybe having a month is too much time, though I felt like I could have kept going forever ... It is the joy in the doing that Bonnie's prompts give us ... Thank you, Bonnie ...