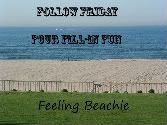 1.
If I could meet one person living or dead, I would want to meet

my Great Great Grandmother who was a Potawatomi Indian. I would love to learn all about their culture and our heritage.
2.
I find it hard to make myself

clean house.
3.
The last time

I took Izzi to agility class, we ran our behinders off and learned at lot, then came home and collapsed.
4.
Where are the

police

when the

crazy drivers

are here?