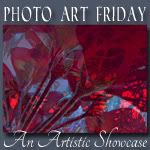 This is a composite of a few pages from the time I spent on PAF last year ... they are favorites but not necessarily the only favorites. I felt like, under Bonnie's tutelage, I grew in my ability to create Photo Art and I am hoping there will be more levels of accomplishment I can achieve. I am looking forward to another year of challenges and comradery with all of the PAF bloggers.
I used Bonnie's Pages in Time texture for my background then added my pictures to it ... I then put them on Bonnie's Blue Stone texture and used it as a border where I could write.
I couldn't single out a guiding word for the coming year ... there are many that I want to / need to address. Determination comes to mind because I am determined to do things this year that I have been avoiding or ignoring way to long. I am starting with getting myself back into shape physically ... both by losing weight and by exercising and regaining some of the strength I gave up to laziness. I do a lot, but I know I can do more and I am determined to do just that. So I guess I did choose a word after all ... Hope you all succeed in finding and following the words of your choice and that life takes on an artistic shape that pleases you
.