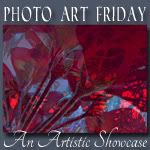 Nothing has changed for me. I have missed our weekly challenges and struggled with finding other ways to express some creativity. But, as soon as you came back "Photo Art Friday", I over reacted as always. I must have made twenty pictures of flowers and then the hard part became paring them down to a reasonable selection. I'm not saying they are good, but what I am saying is, I had a ball ... so glad you are back, Bonnie !
The flower of the Yucca Plant
The Gooseneck Loosestrife
The last is something I have done for a long time. I always called it my flower art. I take a flower picture and put it through one of the distort filters, then develop the result into a picture. I will often see something familiar like a face or an animal, but this time I used the fruit of my Hibiscus plant and just turned it into an abstract.
I used pdpa textures on each of these, in some cases more than one and then finished it with different filters. Three of them I used PicMonkey and one I used Be Funky. This was great fun ... I'm looking forward to meeting up with old friends and drooling over their talent.