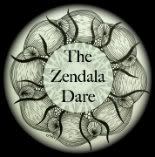 I am new at Zentangle so I don't really have a collection of Zen Do's or Zen Don'ts yet, so I am just going to wing it this time. I had a theme in mind when I started ... the sun and all that it nourishes. I made the mistake of doing my tangle on the small form and found it hard to get the detail as clear as I wanted it. When I was finished, it seemed very confusing. It needed something to pull it together ...
So .... I tried something different. I combined my Zentangle with my texture art that I do for PAF and this is the result.
Now it makes a little more sense, right? I love this art form ... hope to be doing a lot more of it this year.